David Goad (Kali Ra) Interview, Pt. 2
The Interview, Pt. 2
David Goad (Kali Ra) Interview, Pt. 1
I expended prac­ti­cally no effort get­ting Kali Ra front­man David Goad to talk for an over an hour about music, tech­nol­ogy, and absinthe when he dropped by a cou­ple of weeks ago before the con­cert that wasn't.
To be fair, I did plenty of talk­ing too, which I've omit­ted from the inter­view transcript.
The absinthe talk took place while I was mix­ing ves­per cock­tails for the 2 of us (his wife, Alicia, opted for the some­what sweeter witch's kiss), so it's not included in the inter­view, as I had not begun record­ing audio yet. However, there is an absinthe story in 10 Things You Didn't Know about David Goad. [Sidenote: 10 Things You Didn't Know about David Goad con­tains strong lan­guage and depicts behav­ior that may not be suit­able for all read­ers. You have been warned.]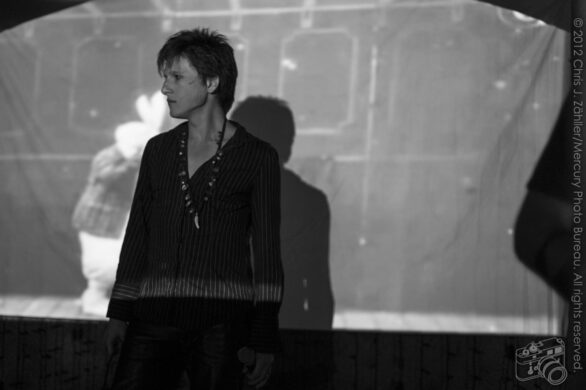 Mercury Photo BureauYou're tour­ing right now, with a show com­ing up in St. Louis; how big is the tour?
David GoadAt this stage, we're just tour­ing region­ally. I'm try­ing to estab­lish a fan-base [before expand­ing geo­graph­i­cally], because the game in live shows is get­ting heads in the door; it's about what can you do for the pro­moter [or the venue].
In , I'm work­ing on New Orleans; will be Austin with The Sexual Side Effects.  —  I'm actu­ally fore­go­ing SXSW, because I've been there, done that. If you're not a head­liner, you're sim­ply 1 of many. Not to knock the fes­ti­val; it's just a crap­shoot if you're not famous.
I will be at the Noise Pop fes­ti­val and NXNE and Pop Montreal and some other fes­ti­vals […].
MPBOn your web­site, some­one, pre­sum­ably you, has written:
In the vein of all great icon­o­clasts in rock, David Goad sets out to destroy the bound­aries and con­ven­tions of con­tem­po­rary music […] His aspi­ra­tions are to have com­mer­cial suc­cess with his catchy and darkly out­landish music, to churn out bril­liant albums, and [to] con­tinue to write for TV and film.
These are large ambi­tions; I have heard them before; and I'm not really sure what you mean by the part about destroy­ing bound­aries and con­ven­tions or how you intend to carry out the lat­ter — rather spe­cific — list. How do you respond?
DavidAlright. You may ask your­self, Do I really need a time share? but here's my sales pitch. [laugh­ter]
A lot of bands do say [this kind of thing] and it's a sort of generic statement.
MPBIt came across as mar­ket­ing, and not as some­thing you gen­uinely meant.
DavidDid I men­tion I was an Antonin Artaud fan? [Sidenote: He did, in part 1 of this inter­view] I plan to worm my way into the main­stream, some­how. I like the world of pop music and rock music.
MPBSo, you're not out to destroy pop and rock music?
David I sim­ply want to, like a par­a­sitic lam­prey […], latch onto [pop and rock music] and suck all the nutri­ents out of it, and then, maybe, if I can, adopt its facial fea­tures, bud off of it, and try to impose myself as it, as this grotesque mon­ster! [laugh­ter]
MPBWho inspires you musically?
DavidBowie, dur­ing his Thin White Duke period. Peter Murphy. Jim Morrison, because he was a rock 'n' roll decon­struc­tion­ist; he took the con­ven­tions of rock 'n' roll and turned it into this bizarro the­atri­cal thing that fused his [per­for­mance and poetry and visual spectacle].
MPBYou seem to incor­po­rate the Brechtian impulse toward sub­ver­sion, to dis­com­fit­ing the patron, to con­fronting the audi­ence, into your per­for­mance. Do you agree?
DavidYes; I think that con­tent is very impor­tant, and lyric writ­ing, and per­for­mance. Sometimes, it's just a fly-by-the-seat-of-the-pants thing, and some­times that may work, but that's not nec­es­sar­ily my M.O. My words mean some­thing — mean sev­eral things.
MPBIn some clubs, the sound is not very good, no mat­ter how com­pe­tent the sound per­son is; a lot of times you just can't over­come bad room acoustics. So, in much of live music, you really can't under­stand the lyrics, no mat­ter how well the singer enunciates.
Beyond that, in recorded music, lis­ten­ers are often drawn in by melodic hooks, and may not hear or under­stand the lyrics until after repeated lis­ten­ings, if ever. Does it bother you when the lis­tener doesn't under­stand the words you've written?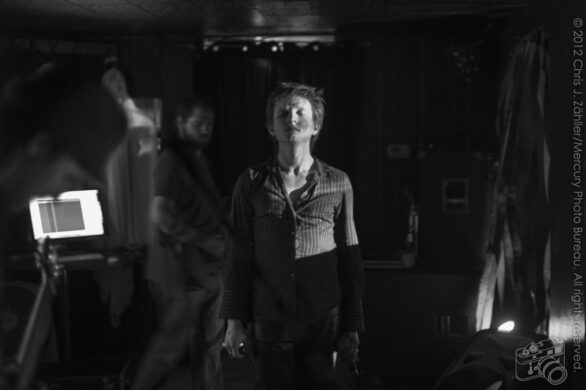 DavidYou — [pauses dra­mat­i­cally] — are a baker, — [pauses again] — and you make cakes —
Alicia GoadI think we should stop him right there.
DavidYou can bake a cake that looks very nice, maybe uses a very smooth layer of fon­dant on top, but the inside could be just plain vanilla cake. And that's okay for some peo­ple, who can be con­tent with [sur­face and arti­fice]. But I would be be doing a dis­ser­vice to my fans, my poten­tial fans, and even my col­leagues if I were to just stop there.
I don't make music just to fill space; I actu­ally have some­thing I want to com­mu­ni­cate, like any other artist […]; peo­ple can be happy with the pack­ag­ing that I give them […], but for those look­ing for cathar­sis, I want them to […] delve into my music, to con­tin­u­ously find lay­ers […] that they emo­tion­ally grav­i­tate to.
MPB[Long-winded expo­si­tion on the idea that hav­ing every­thing avail­able every­where all the time makes deep explo­ration of any given piece of cul­ture increas­ingly dif­fi­cult, lead­ing to this ques­tion]: How do you encour­age deep lis­ten­ing of your music in an age of increas­ing distraction?
DavidIt is dif­fi­cult, [with peo­ple treat­ing art and music as] fur­ni­ture […]. So, what I'm try­ing to sell is […] an alter­na­tive lifestyle, that instead of fill­ing your life with all this stuff that is essen­tially wall­pa­per for the Movie of Your Life, which peo­ple seem to be liv­ing nowadays —
MPB— Even more so, now that peo­ple are com­pelled to project that movie through social media like Twitter and Facebook —
DavidExactly. You are liv­ing the Movie of Your Life, and every­body else is a bit player. I am offer­ing an alter­na­tive to that. My per­for­mances are based on an event con­text. That's some­thing I've learned from [Balinese] cul­ture […]. It's not some­thing that starts at a pre-deter­mined time; it's not some­thing that ends at a pre-deter­mined time; [Sidenote: David is refer­ring to "désa-kala-patra", or "place-time-iden­tity," the con­cept that "what is proper [in artis­tic per­for­mance] is depen­dent on con­text."] it's poly­chronic and it's cen­tered around the event and what you glean from it […].
MPBDo you find the live events are more impor­tant than pre­serv­ing the music in amber, that is, record­ing to CD, even though that's some­what con­trary to the idea of deep explo­ration, since the per­for­mances are ephemeral, whereas if you have the record­ing, you can go back later and "peel the onion layers"?
DavidI see music as a kind of reli­gion, and a band as a kind of god. And doesn't God, indeed, have 3 faces? So, you have the live per­for­mance, then you have the records and CDs and the online pres­ence, […] and then you have evangelism.
MPBTime for our Redeem a Song seg­ment. Name a song you like, but wouldn't nec­es­sar­ily want to admit to lik­ing to just any­one, and tell me why you think it's a good song.
DavidHmm … Adele's Skyfall [, from the new James Bond movie]. I think that was a good col­lab­o­ra­tion […]. She really is a great pop song­writer and singer. By God, she really does sound like a '60s soul singer [; she's per­fect for Bond].
MPBIs there any­thing you'd like to add?
DavidWe have 2 albums we are going to release next year, which we're putting the fin­ish­ing touches on.
MPBWhere will they be available?
DavidAll over the god­damn place. Physical copies, dig­i­tal down­loads, and we may come up with some other inter­est­ing ways of releas­ing them.
10 Things You Didn't Know About David Goad
10 Things You Didn't Know about David Goad
David is a very intense and often mys­te­ri­ous per­son. We have been together for over 11 years now, and no one knows his dark side bet­ter than I do.
One: His Arms Are Tigers
When we were younger and had first moved out, David had absinthe for the first time. One night when we had a cou­ple of his friends over, David had 5 glasses of absinthe (I think he blacked out after 3½). Additionally, the 3 of them fin­ished [half a] bot­tle of Sailor Jerry [rum] and 4 boxes of take-out Chinese.
After his 2 friends left, I thought it would be very funny [to take] my pro­foundly drunk boyfriend to the park. I now real­ize that I should have rec­og­nized the signs of alco­hol tox­i­c­ity and taken him to the hos­pi­tal, but being young and stu­pid I thought absinthe was sup­posed to cause hallucinations.
He said to me, I think I'm hallucinating …
Oh, really? What are you seeing?
With his hands across the park table, he told me, Well, my arms are tigers. Then he put one hand down and looked at the other on the table. Okay, now just this one is a tiger.
[…] I pro­ceeded to push him on the swing and [then I] lock[ed] him in the porta-potty. We were at a children's park, with lots of cute jun­gle gyms and chalk draw­ings. David had the most epic vomit I've seen in my life all over those chalk draw­ings. The awe­some­ness of the puke was [from] the sheer size of it!
I thought that, surely, after­ward, he would feel bet­ter and stop hal­lu­ci­nat­ing. And he did feel bet­ter, but he was still sh*t-faced. He exclaimed, The moon is chas­ing me for­ever, and I could just 'Blah!' I fig­ured the puke meant he needed to go home, and he kept beg­ging me, Please! Don't let me choke on my own vomit and die, it's too rock 'n' roll! I took him home, [made] him drink water, and [let him] watch Tim and Eric. He told me, That's how I feel! I feel like a big fat lady who ran into a bunch of boxes.
Two: He May Be Most Famous for Sucking Toes
To be per­fectly clear, David hates feet. But to this day, peo­ple we have never met still rec­og­nize David as Demetri, […] a vam­pire who fed off of the Venditos guys in a movie dreamed up by Justin Hogan. One of the scenes called for a guy to awaken to Demetri suck­ing his toes. There was no way David would do it, so I played the stunt toe […].
He did lots of other dis­gust­ing things in the movie (i.e., mas­tur­bat­ing with a sev­ered hand to deleted scenes from Twilight). [I think that's] still on YouTube […] [Sidenote: If it is, we couldn't find it.] .
Three: There Are Pictures of Him Naked, on the Internet
Once, while we were out doing bor­ing adult errands and sh*t, David tells me we're going to drop by our friend, Doug's, house. Doug Schwarz is a pho­tog­ra­pher, and he was hav­ing one last party in his apart­ment before he moved into his new house.
I walked in and every­one was wear­ing cos­tumes, and I'm think­ing, What the Hell is going on? [Turns out it was] a bub­ble bath pic­ture party! So I said, I didn't know about any of this, and every­one is wear­ing cos­tumes; what should I wear? and he replied, Nothing. And I'm all like, Who are you‽
Well, that's just what we did, plus the fake ivy I just bought at Garden Ridge. David, how­ever, was full frontal! Let me tell you, he is a brave man; because it was damned cold in that bath­room, not flat­ter­ing at all. Doug posted a whole album of pic­tures from the bub­ble bath party on his Flickr account.
Four: He's Now Typecast As a Shameless Slut
Word got out that David has no qualms [about] doing dis­turb­ing things for the pub­lic eye. His next adven­ture in pub­lic nudity was for a film [pro­duced and writ­ten] by Mike Walsh [and directed by Jonathan Shahan].
David's char­ac­ter was "Naked, quack­ing man." His job was to spout a bunch of crazi­ness, quack, and then smoke from a pipe — naked. I held the robe, to decrease the chance of him get­ting arrested for pub­lic inde­cency dur­ing rush hour in Yukon.
Most recently, David was cast in a movie by James Brittain, where he plays a male pros­ti­tute. I told him these are the only roles he's going to get now, and asked him if he wor­ries about being pigeon-holed.
Five: He's Not Afraid to Disturb Rednecks
Just before Route 66 Bowl shut down, [Sidenote: Route 66 Bowl was a his­toric Oklahoma City bowl­ing alley, in busi­ness 1959 – 2010.] David played a show in their bar. David is very the­atri­cal when [he plays], regard­less [of whether] the set­ting is appro­pri­ate or not. [He's] all about "tear­ing down walls" and sh*t.
[That] night, [his per­for­mance] involved can­vas and paint. We all know that musi­cians are atten­tion-whores. So when the hicks at the bar were doing their best [to] ignore him [and drink] their beers, David wasn't hav­ing it. He started march­ing around the room and hit­ting him­self over and over with the painted canvas.
Then they couldn't help but take notice, and one of them [looked up and] said, Damn boy! It's gonna be okay! Those men weren't laugh­ing; I think they were truly wor­ried about his men­tal integrity.
Six: He's a Huge Fat-Ass
When David and I were first dat­ing, I didn't know he was a bulimic. By that, I mean he did not know self-con­trol when it came to food, and I spent many a night beside the bath­room door lis­ten­ing to him vomit.
He's still a foodie […]. If we go to a Cajun buf­fet, I will have to drive home, because he will be so gorged with frog legs and bread pud­ding that he has to [lie] down and unbut­ton his pants. He can fin­ish a whole pizza by him­self, espe­cially if you crack a raw egg on top.
He once had this wet dream about stuff­ing marsh­mal­lows full of Reese's Pieces. 1 night, we were snug­gling on the couch [roman­ti­cally], and he whis­pered in my ear, Weren't you going to make brown­ies? — and just the other night he said to me [, in ref­er­ence to the upcom­ing Thanksgiving hol­i­day], Food day is com­ing up; aren't you excited?
Seven: He Hangs Loose
David's first expe­ri­ence with inde­cent expo­sure was purely by acci­dent, I think. David goes com­mando most of the time; just think about that next time you see him. Also, David's pants are dilap­i­dated, and I often have to sew them back together.
We had gone shop­ping at Wal-mart one day and were exhausted when we got home. David bent over to take his shoes off, and his nut sack was hang­ing out behind him, and I was think­ing, "Wait a minute, his pants are still on!" His tes­ti­cles had slipped through a hole in his pants, for Muhammad knows how long!
David! Why are your balls hang­ing out‽
What? He felt around. Oh my God! Oh my God, oh my God!
Aahhahaha­ha­haha Ha!
I still won­der if he can be found on People of Wal-Mart.
Eight: In Another Life, He Works for (Bizarro) Hallmark
Our fam­ily always looks for­ward to their unique cards from David. Whether it's for birth­days or Christmas, no 2 cards are ever the same.
The cards are time con­sum­ing [to make], and [they are] in high demand. 2 of my favorites: The card for his grandma for her 83rd birth­day had ladies at the beauty par­lor get­ting their cooked-shrimp heads blow dried. Inside were a few "coupons," 1 being for "$Texas." His grand­mother had to put on her glasses to see this, and she read it all aloud.
The other favorite [was when] he gave a card to his cousin, Richard, for Christmas. This card had a wal­rus, dressed in a flan­nel jacket and flan­nel hat with ear flaps, danc­ing to Simply Irresistible. The inside had a close-up of the wal­rus with blood­shot eyes [with the cap­tion,] I'm going to mur­der you.
Nine: He Once Got a Surprise 'Yell Job' from a Dude
You must know Leon Manson; he is now in the band Psychic Milk. When Leon and David went to school at ACM, they were in the same school band and would prac­tice at a friend's house. This house was occu­pied only by guys, and I'm not sure how many lived there at any given point in time, because [so many peo­ple came and went].
One time, we all came upstairs from the base­ment from prac­tic­ing, and a hand­ful of young men were on the couch in the liv­ing room watch­ing a porno. David and I were talk­ing near the thresh­old, say­ing, This is prob­a­bly our cue to leave … Well, I guess Leon got excited, because that very moment he ran full force [toward us], slid on his knees up to David, and yelled as loud and as long as he could into David's crotch.
And we [just stood] there, in shock.
But now we all know not to play 'gay chicken' with the fel­lows at ACM. [Because] they'll win.
Ten: He Writes & Records All of His Own Music
Not all [my husband's secrets] are humil­i­at­ing or insane. [Too few peo­ple] know how impor­tant his music is to him. [David writes all the parts for the music per­formed by any of the bands he's been in him­self.] He records all of his own music at home, as well as record­ing for oth­ers too. — and [for] all of the cov­ers he plays, he learns the music him­self, replays it, and then records it before [per­form­ing it] live.
David's friends are very impor­tant to him, and he wants to give credit where it is due. That being said, David deserves more recog­ni­tion for his cre­ativ­ity and determination.
— Alicia Goad