The Interview, Pt. 2
David Goad (Kali Ra) Interview, Pt. 1
I expend­ed prac­ti­cal­ly no effort get­ting Kali Ra front­man David Goad to talk for an over an hour about music, tech­nol­o­gy, and absinthe when he dropped by a cou­ple of weeks ago before the con­cert that wasn't.
To be fair, I did plen­ty of talk­ing too, which I've omit­ted from the inter­view tran­script.
The absinthe talk took place while I was mix­ing ves­per cock­tails for the 2 of us (his wife, Ali­cia, opt­ed for the some­what sweet­er witch's kiss), so it's not includ­ed in the inter­view, as I had not begun record­ing audio yet. How­ev­er, there is an absinthe sto­ry in 10 Things You Didn't Know about David Goad.10 Things You Didn't Know about David Goad con­tains strong lan­guage and depicts behav­ior that may not be suit­able for all read­ers. You have been warned.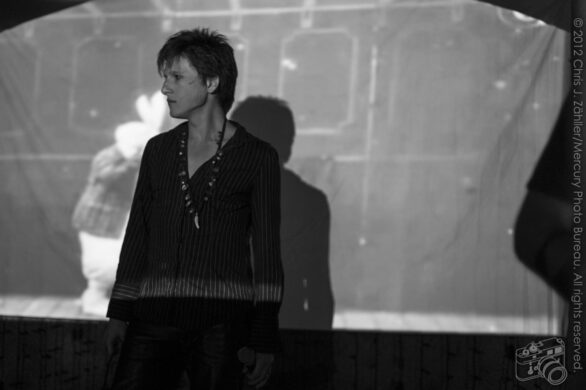 Mer­cury Pho­to BureauYou're tour­ing right now, with a show com­ing up in St. Louis; how big is the tour?
David GoadAt this stage, we're just tour­ing region­al­ly. I'm try­ing to estab­lish a fan-base [before expand­ing geo­graph­i­cal­ly], because the game in live shows is get­ting heads in the door; it's about what can you do for the pro­mot­er [or the venue].
In , I'm work­ing on New Orleans; will be Austin with The Sex­u­al Side Effects. — I'm actu­al­ly fore­go­ing SXSW, because I've been there, done that. If you're not a head­lin­er, you're sim­ply 1 of many. Not to knock the fes­ti­val; it's just a crap­shoot if you're not famous.
I will be at the Noise Pop fes­ti­val and NXNE and Pop Mon­tre­al and some oth­er fes­ti­vals […].
MPBOn your web­site, some­one, pre­sum­ably you, has writ­ten:
In the vein of all great icon­o­clasts in rock, David Goad sets out to destroy the bound­aries and con­ven­tions of con­tem­po­rary music […] His aspi­ra­tions are to have com­mer­cial suc­cess with his catchy and dark­ly out­landish music, to churn out bril­liant albums, and [to] con­tin­ue to write for TV and film.
These are large ambi­tions; I have heard them before; and I'm not real­ly sure what you mean by the part about destroy­ing bound­aries and con­ven­tions or how you intend to car­ry out the lat­ter — rather spe­cif­ic — list. How do you respond?
DavidAlright. You may ask your­self, Do I real­ly need a time share? but here's my sales pitch. [laugh­ter]
A lot of bands do say [this kind of thing] and it's a sort of gener­ic state­ment.
MPBIt came across as mar­ket­ing, and not as some­thing you gen­uine­ly meant.
DavidDid I men­tion I was an Antonin Artaud fan?He did, in part 1 of this inter­view I plan to worm my way into the main­stream, some­how. I like the world of pop music and rock music.
MPBSo, you're not out to destroy pop and rock music?
David I sim­ply want to, like a par­a­sitic lam­prey […], latch onto [pop and rock music] and suck all the nutri­ents out of it, and then, maybe, if I can, adopt its facial fea­tures, bud off of it, and try to impose myself as it, as this grotesque mon­ster! [laugh­ter]
MPBWho inspires you musi­cal­ly?
DavidBowie, dur­ing his Thin White Duke peri­od. Peter Mur­phy. Jim Mor­ri­son, because he was a rock 'n' roll decon­struc­tion­ist; he took the con­ven­tions of rock 'n' roll and turned it into this bizarro the­atri­cal thing that fused his [per­for­mance and poet­ry and visu­al spec­ta­cle].
MPBYou seem to incor­po­rate the Brecht­ian impulse toward sub­ver­sion, to dis­com­fit­ing the patron, to con­fronting the audi­ence, into your per­for­mance. Do you agree?
DavidYes; I think that con­tent is very impor­tant, and lyric writ­ing, and per­for­mance. Some­times, it's just a fly-by-the-seat-of-the-pants thing, and some­times that may work, but that's not nec­es­sar­i­ly my M.O. My words mean some­thing — mean sev­er­al things.
MPBIn some clubs, the sound is not very good, no mat­ter how com­pe­tent the sound per­son is; a lot of times you just can't over­come bad room acoustics. So, in much of live music, you real­ly can't under­stand the lyrics, no mat­ter how well the singer enun­ci­ates.
Beyond that, in record­ed music, lis­ten­ers are often drawn in by melod­ic hooks, and may not hear or under­stand the lyrics until after repeat­ed lis­ten­ings, if ever. Does it both­er you when the lis­ten­er doesn't under­stand the words you've writ­ten?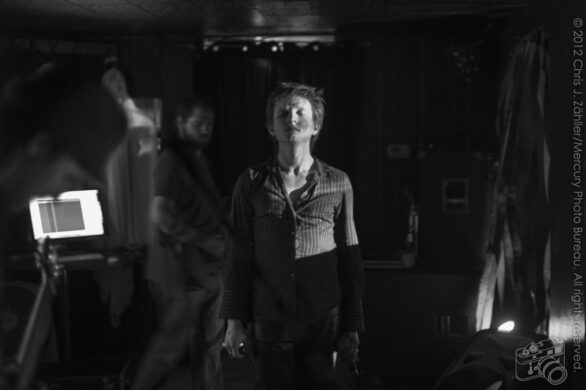 DavidYou — [paus­es dra­mat­i­cal­ly] — are a bak­er, — [paus­es again] — and you make cakes —
Ali­cia GoadI think we should stop him right there.
DavidYou can bake a cake that looks very nice, maybe uses a very smooth lay­er of fon­dant on top, but the inside could be just plain vanil­la cake. And that's okay for some peo­ple, who can be con­tent with [sur­face and arti­fice]. But I would be be doing a dis­ser­vice to my fans, my poten­tial fans, and even my col­leagues if I were to just stop there.
I don't make music just to fill space; I actu­al­ly have some­thing I want to com­mu­ni­cate, like any oth­er artist […]; peo­ple can be hap­py with the pack­ag­ing that I give them […], but for those look­ing for cathar­sis, I want them to […] delve into my music, to con­tin­u­ous­ly find lay­ers […] that they emo­tion­al­ly grav­i­tate to.
MPB[Long-wind­ed expo­si­tion on the idea that hav­ing every­thing avail­able every­where all the time makes deep explo­ration of any giv­en piece of cul­ture increas­ing­ly dif­fi­cult, lead­ing to this ques­tion]: How do you encour­age deep lis­ten­ing of your music in an age of increas­ing dis­trac­tion?
DavidIt is dif­fi­cult, [with peo­ple treat­ing art and music as] fur­ni­ture […]. So, what I'm try­ing to sell is […] an alter­na­tive lifestyle, that instead of fill­ing your life with all this stuff that is essen­tial­ly wall­pa­per for the Movie of Your Life, which peo­ple seem to be liv­ing nowa­days —
MPB— Even more so, now that peo­ple are com­pelled to project that movie through social media like Twit­ter and Face­book —
DavidExact­ly. You are liv­ing the Movie of Your Life, and every­body else is a bit play­er. I am offer­ing an alter­na­tive to that. My per­for­mances are based on an event con­text. That's some­thing I've learned from [Bali­nese] cul­ture […]. It's not some­thing that starts at a pre-deter­mined time; it's not some­thing that ends at a pre-deter­mined time;David is refer­ring to "désa-kala-patra", or "place-time-iden­ti­ty," the con­cept that "what is prop­er [in artis­tic per­for­mance] is depen­dent on con­text." it's poly­chron­ic and it's cen­tered around the event and what you glean from it […].
MPBDo you find the live events are more impor­tant than pre­serv­ing the music in amber, that is, record­ing to CD, even though that's some­what con­trary to the idea of deep explo­ration, since the per­for­mances are ephemer­al, where­as if you have the record­ing, you can go back lat­er and "peel the onion lay­ers"?
DavidI see music as a kind of reli­gion, and a band as a kind of god. And doesn't God, indeed, have 3 faces? So, you have the live per­for­mance, then you have the records and CDs and the online pres­ence, […] and then you have evan­ge­lism.
MPBTime for our Redeem a Song seg­ment. Name a song you like, but wouldn't nec­es­sar­i­ly want to admit to lik­ing to just any­one, and tell me why you think it's a good song.
DavidHmm … Adele's Sky­fall [, from the new James Bond movie]. I think that was a good col­lab­o­ra­tion […]. She real­ly is a great pop song­writer and singer. By God, she real­ly does sound like a '60s soul singer [; she's per­fect for Bond].
MPBIs there any­thing you'd like to add?
DavidWe have 2 albums we are going to release next year, which we're putting the fin­ish­ing touch­es on.
MPBWhere will they be avail­able?
DavidAll over the god­damn place. Phys­i­cal copies, dig­i­tal down­loads, and we may come up with some oth­er inter­est­ing ways of releas­ing them.
10 Things You Didn't Know About David Goad
10 Things You Didn't Know about David Goad
David is a very intense and often mys­te­ri­ous per­son. We have been togeth­er for over 11 years now, and no one knows his dark side bet­ter than I do.
One: His Arms Are Tigers
When we were younger and had first moved out, David had absinthe for the first time. One night when we had a cou­ple of his friends over, David had 5 glass­es of absinthe (I think he blacked out after 3½). Addi­tion­al­ly, the 3 of them fin­ished [half a] bot­tle of Sailor Jer­ry [rum] and 4 box­es of take-out Chi­nese.
After his 2 friends left, I thought it would be very fun­ny [to take] my pro­found­ly drunk boyfriend to the park. I now real­ize that I should have rec­og­nized the signs of alco­hol tox­i­c­i­ty and tak­en him to the hos­pi­tal, but being young and stu­pid I thought absinthe was sup­posed to cause hal­lu­ci­na­tions.
He said to me, I think I'm hal­lu­ci­nat­ing …
Oh, real­ly? What are you see­ing?
With his hands across the park table, he told me, Well, my arms are tigers. Then he put one hand down and looked at the oth­er on the table. Okay, now just this one is a tiger.
[…] I pro­ceed­ed to push him on the swing and [then I] lock[ed] him in the por­ta-pot­ty. We were at a children's park, with lots of cute jun­gle gyms and chalk draw­ings. David had the most epic vom­it I've seen in my life all over those chalk draw­ings. The awe­some­ness of the puke was [from] the sheer size of it!
I thought that, sure­ly, after­ward, he would feel bet­ter and stop hal­lu­ci­nat­ing. And he did feel bet­ter, but he was still sh*t-faced. He exclaimed, The moon is chas­ing me for­ev­er, and I could just 'Blah!' I fig­ured the puke meant he need­ed to go home, and he kept beg­ging me, Please! Don't let me choke on my own vom­it and die, it's too rock 'n' roll! I took him home, [made] him drink water, and [let him] watch Tim and Eric. He told me, That's how I feel! I feel like a big fat lady who ran into a bunch of box­es.
Two: He May Be Most Famous for Sucking Toes
To be per­fect­ly clear, David hates feet. But to this day, peo­ple we have nev­er met still rec­og­nize David as Demetri, […] a vam­pire who fed off of the Ven­di­tos guys in a movie dreamed up by Justin Hogan. One of the scenes called for a guy to awak­en to Demetri suck­ing his toes. There was no way David would do it, so I played the stunt toe […].
He did lots of oth­er dis­gust­ing things in the movie (i.e., mas­tur­bat­ing with a sev­ered hand to delet­ed scenes from Twi­light). [I think that's] still on YouTube […]If it is, we couldn't find it..
Three: There Are Pictures of Him Naked, on the Internet
Once, while we were out doing bor­ing adult errands and sh*t, David tells me we're going to drop by our friend, Doug's, house. Doug Schwarz is a pho­tog­ra­ph­er, and he was hav­ing one last par­ty in his apart­ment before he moved into his new house.
I walked in and every­one was wear­ing cos­tumes, and I'm think­ing, What the Hell is going on? [Turns out it was] a bub­ble bath pic­ture par­ty! So I said, I didn't know about any of this, and every­one is wear­ing cos­tumes; what should I wear? and he replied, Noth­ing. And I'm all like, Who are you‽
Well, that's just what we did, plus the fake ivy I just bought at Gar­den Ridge. David, how­ev­er, was full frontal! Let me tell you, he is a brave man; because it was damned cold in that bath­room, not flat­ter­ing at all. Doug post­ed a whole album of pic­tures from the bub­ble bath par­ty on his Flickr account.
Four: He's Now Typecast As a Shameless Slut
Word got out that David has no qualms [about] doing dis­turb­ing things for the pub­lic eye. His next adven­ture in pub­lic nudi­ty was for a film [pro­duced and writ­ten] by Mike Walsh [and direct­ed by Jonathan Sha­han].
David's char­ac­ter was "Naked, quack­ing man." His job was to spout a bunch of crazi­ness, quack, and then smoke from a pipe — naked. I held the robe, to decrease the chance of him get­ting arrest­ed for pub­lic inde­cen­cy dur­ing rush hour in Yukon.
Most recent­ly, David was cast in a movie by James Brit­tain, where he plays a male pros­ti­tute. I told him these are the only roles he's going to get now, and asked him if he wor­ries about being pigeon-holed.
Five: He's Not Afraid to Disturb Rednecks
Just before Route 66 Bowl shut down,Route 66 Bowl was a his­toric Okla­homa City bowl­ing alley, in busi­ness 1959 – 2010. David played a show in their bar. David is very the­atri­cal when [he plays], regard­less [of whether] the set­ting is appro­pri­ate or not. [He's] all about "tear­ing down walls" and sh*t.
[That] night, [his per­for­mance] involved can­vas and paint. We all know that musi­cians are atten­tion-whores. So when the hicks at the bar were doing their best [to] ignore him [and drink] their beers, David wasn't hav­ing it. He start­ed march­ing around the room and hit­ting him­self over and over with the paint­ed can­vas.
Then they couldn't help but take notice, and one of them [looked up and] said, Damn boy! It's gonna be okay! Those men weren't laugh­ing; I think they were tru­ly wor­ried about his men­tal integri­ty.
Six: He's a Huge Fat-Ass
When David and I were first dat­ing, I didn't know he was a bulim­ic. By that, I mean he did not know self-con­trol when it came to food, and I spent many a night beside the bath­room door lis­ten­ing to him vom­it.
He's still a food­ie […]. If we go to a Cajun buf­fet, I will have to dri­ve home, because he will be so gorged with frog legs and bread pud­ding that he has to [lie] down and unbut­ton his pants. He can fin­ish a whole piz­za by him­self, espe­cial­ly if you crack a raw egg on top.
He once had this wet dream about stuff­ing marsh­mal­lows full of Reese's Pieces. 1 night, we were snug­gling on the couch [roman­ti­cal­ly], and he whis­pered in my ear, Weren't you going to make brown­ies? — and just the oth­er night he said to me [, in ref­er­ence to the upcom­ing Thanks­giv­ing hol­i­day], Food day is com­ing up; aren't you excit­ed?
Seven: He Hangs Loose
David's first expe­ri­ence with inde­cent expo­sure was pure­ly by acci­dent, I think. David goes com­man­do most of the time; just think about that next time you see him. Also, David's pants are dilap­i­dat­ed, and I often have to sew them back togeth­er.
We had gone shop­ping at Wal-mart one day and were exhaust­ed when we got home. David bent over to take his shoes off, and his nut sack was hang­ing out behind him, and I was think­ing, "Wait a minute, his pants are still on!" His tes­ti­cles had slipped through a hole in his pants, for Muham­mad knows how long!
David! Why are your balls hang­ing out‽
What? He felt around. Oh my God! Oh my God, oh my God!
Aah­hahaha­ha­ha­ha Ha!
I still won­der if he can be found on Peo­ple of Wal-Mart.
Eight: In Another Life, He Works for (Bizarro) Hallmark
Our fam­i­ly always looks for­ward to their unique cards from David. Whether it's for birth­days or Christ­mas, no 2 cards are ever the same.
The cards are time con­sum­ing [to make], and [they are] in high demand. 2 of my favorites: The card for his grand­ma for her 83rd birth­day had ladies at the beau­ty par­lor get­ting their cooked-shrimp heads blow dried. Inside were a few "coupons," 1 being for "$Texas." His grand­moth­er had to put on her glass­es to see this, and she read it all aloud.
The oth­er favorite [was when] he gave a card to his cousin, Richard, for Christ­mas. This card had a wal­rus, dressed in a flan­nel jack­et and flan­nel hat with ear flaps, danc­ing to Sim­ply Irre­sistible. The inside had a close-up of the wal­rus with blood­shot eyes [with the cap­tion,] I'm going to mur­der you.
Nine: He Once Got a Surprise 'Yell Job' from a Dude
You must know Leon Man­son; he is now in the band Psy­chic Milk. When Leon and David went to school at ACM, they were in the same school band and would prac­tice at a friend's house. This house was occu­pied only by guys, and I'm not sure how many lived there at any giv­en point in time, because [so many peo­ple came and went].
One time, we all came upstairs from the base­ment from prac­tic­ing, and a hand­ful of young men were on the couch in the liv­ing room watch­ing a porno. David and I were talk­ing near the thresh­old, say­ing, This is prob­a­bly our cue to leave … Well, I guess Leon got excit­ed, because that very moment he ran full force [toward us], slid on his knees up to David, and yelled as loud and as long as he could into David's crotch.
And we [just stood] there, in shock.
But now we all know not to play 'gay chick­en' with the fel­lows at ACM. [Because] they'll win.
Ten: He Writes & Records All of His Own Music
Not all [my husband's secrets] are humil­i­at­ing or insane. [Too few peo­ple] know how impor­tant his music is to him. [David writes all the parts for the music per­formed by any of the bands he's been in him­self.] He records all of his own music at home, as well as record­ing for oth­ers too. — and [for] all of the cov­ers he plays, he learns the music him­self, replays it, and then records it before [per­form­ing it] live.
David's friends are very impor­tant to him, and he wants to give cred­it where it is due. That being said, David deserves more recog­ni­tion for his cre­ativ­i­ty and deter­mi­na­tion.
—Ali­cia Goad