The Interview
The Interview
The audio for the inter­view was not up to our usu­al stan­dards, which pre­sent­ed some dif­fi­cul­ties dur­ing the tran­scrip­tion.
This past , the Bureau invit­ed noise-rock­ers Son­icVi­o­lence, along with video direc­tor Mike Walsh, to drop by for an inter­view in antic­i­pa­tion of their upcom­ing EP release.
Mer­cury Pho­to BureauWel­come. Please intro­duce your­selves.
Bran­don Wil­sonBran­don Wil­son, and I play gui­tar and sing.
Leon Man­sonI'm Leon Man­son, and I play gui­tar and use my voice.
Ter­rence MackI'm Ter­rence Mack; I play key­board and gui­tar.
LeonAnd not with us are Edward Schot­ter and Don­ald James. Don­ald is our drum­mer, and Ed is our bassist and some­times syn­the­siz­er play­er.
MPBI read in an inter­view that you start­ed the band as a duo, and that was with Ed, I believe?
LeonThat was with Don­ald. Don­ald and I start­ed the band. I was liv­ing in a house in Okla­homa City with 5 oth­er guys. We actu­al­ly went to high school [in Tul­sa] togeth­er; but, I met him in Brick­town, in Okla­homa City [at ACM]. We decid­ed we were into a lot of the same stuff.
It was actu­al­ly Alan Ore­baugh down here in Nor­man — he plays with Saucy Gentlemen's Club, and he also does the Grate­ful Dead cov­er band — [he brought us togeth­er]. The 1st time Don­ald and I jammed togeth­er was for a class [that Alan was teach­ing.] We were sup­posed to demon­strate all that we had learned on gui­tar for our final. Every­body else came in and played gui­tar solos; but for me, it was like, I'm still not very good at gui­tar. The biggest thing I know how to do is I'm good at play­ing with oth­er peo­ple.
So Don­ald and I wrote a song togeth­er, and he came into the class. And they have drumk­its in every room at ACM, so we played [the] song. And right after we fin­ished, Alan came up and said, Man, you need to start a band.
I was play­ing in a dif­fer­ent band at the time, so Don­ald and I got togeth­er and start­ed jam­ming. We actu­al­ly wrote a bunch of songs that I real­ly liked; it was not [so] much the way Son­icVi­o­lence sounds now; when I met Bran­don a year lat­er we basi­cal­ly scrapped every­thing so the peo­ple com­ing into [the band] could become more involved.
MPBSo, you start­ed this band before Psy­chic Milk. Is that band still active?
Bran­donYeah; we're still togeth­er. But we've all been doing indi­vid­ual projects and col­lab­o­ra­tions with oth­er peo­ple. It's just on the back burn­er for now. We actu­al­ly have an EP record­ed and ready to go. With the momen­tum that Justin [Hogan] has gained with Bowlsey, as well as the Son­icVi­o­lence [EP about to drop], it prob­a­bly wouldn't be the best time to put it out.
LeonChar­lie Marsel from Psy­chic Milk, prob­a­bly the biggest thing, oth­er than work­ing at the com­ic store, is Char­lie is actu­al­ly writ­ing a com­ic book right now. It's gonna be called Infin­i­ty Fac­tor, and all of the char­ac­ters in it are basi­cal­ly all of us; it's like all of our friends are char­ac­ters in it. We're gonna do a Psy­chic Milk con­cept album to go along with [the com­ic]. It's being illus­trat­ed by Zac Cox; he's a real­ly awe­some dude: he does cool art­work.
MPBThe band name: Son­icVi­o­lence. There's an Essex, Eng­land-based band from the 1980s by that name.
LeonAs soon as I thought of that name — which to me, is all new and all awe­some and stuff; I didn't do any research — I imme­di­ate­ly went out and got the Twit­ter name [@sonicviolence], and I got the Band­camp name. About a year ago, some teenage girl from Essex start­ed going off on me [on Twit­ter]: Your name's not orig­i­nal! You're not the orig­i­nal band! The real Son­icVi­o­lence is from Essex, and they were around in the '80s! And she kept tag­ging this dude, Can you believe this guy‽ blah blah blah! And I went and looked at the guy she was tag­ging, and it turned out it was the orig­i­nal lead singer;Our metic­u­lous research team says he goes by the name "Aun­tie". I guess they're an indus­tri­al punk band — I lis­tened to a lit­tle of them on YouTube — he tweet­ed back to the girl and to me, I don't care about the name; good luck to them.
MPBHow did the oth­er mem­bers join?
Bran­donT-Mack, how did you join the band?
Ter­renceI was in an exper­i­men­tal folk band called Paint­ed Wolf, and that was kind of end­ing. And I was over at Brandon's apart­ment in Deep Deuce. It was prob­a­bly the 3rd time I'd been asked to join Son­icVi­o­lence. I was like, Well, no. Yeah.
MPBThey wore you down.
Bran­donPret­ty much.
LeonI [inaudi­ble] him hard. I wouldn't let him not think about it for a month or 2. It was always at the fore­front of con­ver­sa­tion.
Bran­donT-Mack was def­i­nite­ly the miss­ing piece we real­ly need­ed to make the sound full.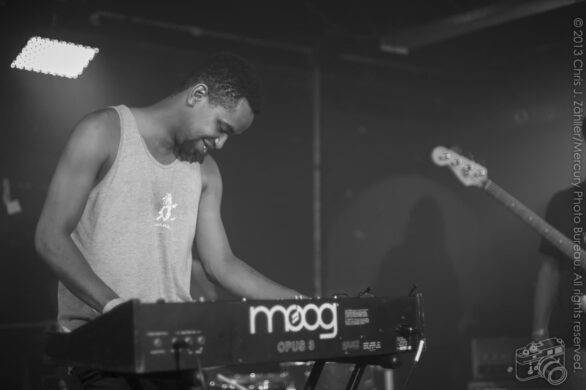 LeonEd got into the band because he was my room­mate at the time. He was just our default, go-to guy. He was the only log­i­cal addi­tion to the band for the rhythm sec­tion. It just made sense at the time. We need a bassist! And you know, Ed's hang­ing out on the couch, and we're like, Ed, [do] you have a bass? and he's like, Yeah, I total­ly have a bass. Yeah, well you're in the band, then.
MPBHow did sound change after you expand­ed?
LeonThe 2-piece sound was more grunge, 'cause we were just play­ing in the base­ment — the whole point was it was just super loud. At the place where we were liv­ing, it was 5 [musi­cians], so the whole base­ment was filled with amps. Every time we would prac­tice I would plug into every sin­gle amp and just try to make Don­ald go deaf.
MPBYou're still real­ly loud, but, to my ears, it's a lot more sophis­ti­cat­ed than just loud. There's a lot going on.
LeonThat had a lot to do with Bran­don. My thing is kind of — I'm not the most sophis­ti­cat­ed sound­ing gui­tar play­er; a lot of my stuff is just real­ly intense noise. But, like, when Bran­don joined, he's got lot of expe­ri­ence record­ing, a lot of expe­ri­ence mak­ing sounds and stuff. That's when the atten­tion to detail came into play. He's our [record­ing] pro­duc­er, too. Bran­don also pro­duces Psy­chic Milk's record­ings.
MPBTer­rence, could you tell us your musi­cal back­ground?
Ter­renceIt start­ed with orches­tra. I went to Classen [School of Advanced Stud­ies]; at the time I just fell in love with the sound of the organ. So I start­ed play­ing organ in my dad's church. I start­ed organ and pret­ty much all key­boards when I was 12 or 13?
MPBDo you have a favorite type of organ?
Ter­renceUm, I mean, the Ham­mond B3, C3.
MPBThose are the clas­sic ones, yeah. Any of the ones that have the Leslie speak­er. Can you give me a run down on Ed's and Donald's musi­cal back­grounds?
Ter­renceMy 1st band was a [con­tem­po­rary] jazz band with Don­ald. We played 1 show at the Red Room here in Nor­man. That last­ed for a while, but the bassist had to move to Chica­go for school.
Bran­donEd played gui­tar since I met him my fresh­man year of high school — his sopho­more year. He was real­ly big into sports; [he] broke his col­lar­bone in high school and was nev­er real­ly as inter­est­ed in sports again.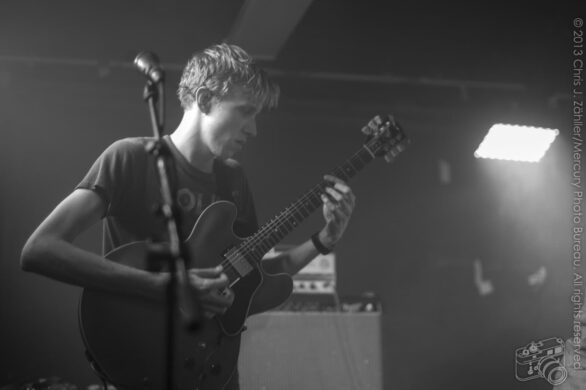 MPBI don't remem­ber who it was, but I inter­viewed some­body else who had a sports injury and couldn't play any more, and that's when he took up what­ev­er instru­ment it was.
LeonEd is def­i­nite­ly our res­i­dent jock. Every show we play, he's wear­ing a dif­fer­ent soc­cer jer­sey.
MPBCan you tell me about writ­ing songs for the band?
Bran­donIt's def­i­nite­ly a col­lab­o­ra­tion. The 1st song we wrote togeth­er — we wrote it in stages, as a col­lec­tive, and then in sub­sets of the col­lec­tive — is Over­med­icat­ed and Under­uti­lized. That's real­ly our 1st group effort. But we also have songs that have real­ly strong con­tri­bu­tions [from the var­i­ous band mem­bers].
LeonAfter we put this EP out, we're gonna go straight to work on a [full-length] record. It's gonna be all new songs. There's been a lot of stuff, while we've been record­ing, putting this new stuff out — I think it's easy as a band to get ahead of your­self, and not have all of your stuff record­ed, and some stuff falls by the way­side. But the way this band has always worked is, we don't want to put any­thing out before it's ready. And we're real big into get­ting every­thing just per­fect. I guess, not as much live, because we've tried out things — test­ed the waters — play­ing live, but we're mani­a­cal about get­ting things to sound per­fect. That's why it's tak­en so long to get this EP out. The sin­gle off of this EP, Bran­don pret­ty much wrote it in its entire­ty. We've been play­ing it for almost a year.
MPBI want­ed to ask you about the sin­gle. 1st of all, it's got a great title: One Day We Are All Going to Explode (and it will be beau­ti­ful). This was your 1st sin­gle?
LeonPret­ty much. We released it as a demo. We had done that 1st EP with Trent Bell; it was good, but it wasn't nec­es­sar­i­ly the way we want­ed it to sound. We had 2 days to record it. We tracked it the 1st day, mixed it the next day, and it came out sound­ing kind of plain. It was very clean, which is not nec­es­sar­i­ly the sound we go for.
MPBHere's my take on the sin­gle. I hear a uni­son vocal, an octave apart through­out. I don't think there's any har­mo­ny singing. It's very melod­ic; I'm think­ing "pow­er pop gui­tar," but then as it pro­gress­es, it devolves into a "noisy" cho­rus, while still main­tain­ing the melody in the vocal line. Then the whole thing just goes to a crash­ing, feed­back-laden end­ing. Any­thing you want to say about the song itself?
LeonWe went up to Brandon's house, in Tul­sa. He's got a real­ly nice "live" room to record in there. We were mess­ing around, record­ing dif­fer­ent stuff, and it was just this idea that I came up with then. We didn't go there to track the song. I just start­ed play­ing the verse gui­tar line and then it just went from there, with Bran­don com­ing in and say­ing, Oh, well, maybe this will sound cool if this was this way, and then we fig­ured out all the stuff and tracked it that night. The whole thing took maybe, 5 hours, to write and record.
I was kind of bummed out when we went up there — I think that's a com­mon theme in my lyrics, that they're all depress­ing — but it was weird, because I was writ­ing these real­ly depress­ing lyrics, but the whole time we were record­ing that song, I have nev­er been hap­pi­er. It was a blast.
The thing with the way I write lyrics is, I do it from a stream-of-con­scious­ness stand­point; I mean, I'll be lis­ten­ing to [the music], and I'll just start say­ing stuff, and if it fits, it fits; and if it doesn't, it doesn't. I'll look back at it, and it's like I'm giv­ing myself ther­a­py.
That song is close to my heart, because it was writ­ten with every­body there. A lot of times I'll write songs where it'll just be me, awake at , with just my gui­tar. But I think the best songs we've writ­ten are when we're all togeth­er and just feel­ing real­ly inspired and spon­ta­neous. That's when the peo­ple you work with will come through and have some­thing awe­some, every time.
MPBYou moved from a sort of "grunge" sound to a kind of "noise-rock" sound. It's real­ly hard to pin a genre on non-com­mer­cial bands these days, but you've cit­ed some influ­ences. Dinosaur Jr. and Radio­head, for instance.
LeonIt's nev­er like we want to sound like this 1 band. It's more like, that gui­tar tone in this par­tic­u­lar song by that band is real­ly sick, and that inspires me to go do my own ver­sion of it.
MPBYou've warned peo­ple to bring earplugs to your shows, and I can attest to that. Most­ly because of you guys and the Kamals, I've start­ed tak­ing earplugs to the shows I pho­to­graph. [laugh­ter] Your Face­book page says your sound is like How High meets 2001: A Space Odyssey. I didn't real­ly get that; I mean, I don't real­ly hear much in the way of hip-hop?
LeonDonald's drum­ming is very hip-hop. That's some­thing we real­ly go for, it that back­ing beat. Espe­cial­ly on that 1st song, which is a tune that Bran­don wrote, After­birth; like, the whole thing sounds like a super [inaudi­ble].
MPBSo, does he bring in funk and pre-hip-hop ele­ments, too?
LeonI think so, yeah; it def­i­nite­ly shows in his fills. I think the whole How High meets 2001: A Space Odyssey thing comes from, How High is this super-grungy hip-hop movie, that is kin­da f*cked up, and kin­da raunchy in parts, and 2001: A Space Odyssey is this grand vision of —
Bran­donAvant garde inter­pre­ta­tion.
MPBSo you're tak­ing some­thing very earthy and putting this intel­lec­tu­al spin on it?
LeonAt least, speak­ing for me, I want to make crazy noise-rock with real­ly intense pro­duc­tion that sounds amaz­ing, and peo­ple can lis­ten to and go, Oh, wow; it's crazy, how this part goes there, and that's def­i­nite­ly Brandon's thing.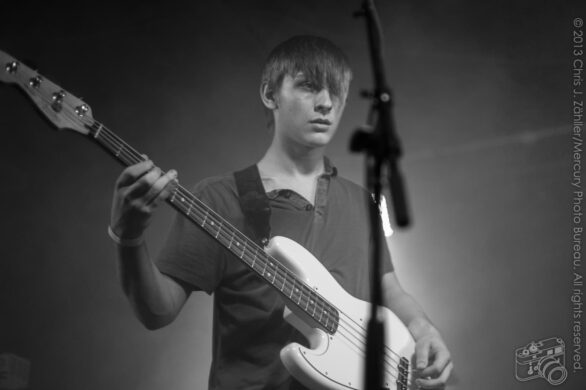 Bran­donI don't think we aspire to be intel­lec­tu­al or avant garde; just ambigu­ous. Open to some inter­pre­ta­tion. A lot of my lyrics weave metaphor with the lit­er­al.
LeonBran­don and I pret­ty much [divide the lyrics writ­ing even­ly]. I've always been the guy who, like, I'll lis­ten to a song, and I'll make up lyrics to it, whether they're right or not. And I think that's cool; like, I want peo­ple to not know what the lyrics [to our songs] are, make them up for them­selves, and then have their own inter­pre­tions.
MPBThere's not a lot of open space in your songs. Do you see your­selves open­ing up the sound, son­i­cal­ly, any time in the future?
Bran­donDef­i­nite­ly. Espe­cial­ly on the album as opposed to the upcom­ing EP, because we're still in this dense style of mak­ing music that has as much in it as pos­si­ble that doesn't sound com­plete­ly clut­tered.
MPBLike Dan­ny Elf­man.
Bran­donAbsolute­ly. The "more" is not nec­es­sar­i­ly "less" approach.
LeonThe new stuff, espe­cial­ly Over­med­icat­ed and Under­uti­lized, sounds a lot more sparse. As far as the real­ly heavy gui­tar tones go, this is the least heavy thing we've record­ed. The gui­tars are mixed a lot more back; drums and bass are more in front. Some of it has a pseu­do-indus­tri­al vibe to it.
Bran­donThere's a lot more synths and keys, as well. This is our 1st record­ing with Ter­rence.
MPBI under­stand that you'll have some demo copies of the EP at the Wavves show at the Con­ser­va­to­ry.
Bran­donWe'll have at least 1 song on CD ready to go.
MPBYou'll be open­ing for Wavves with Skat­ing Pol­ly. There seems to be a tremen­dous amount of excite­ment in the music fan com­mu­ni­ty for the show.
LeonWavves has been 1 of my favorite bands since I was a high school fresh­man. He did a bunch of super lo-fi tape releas­es before mov­ing to a full band and mak­ing more pro­duced sound­ing albums. It's pret­ty much gonna be the biggest show we've ever played.
Bran­donPro­duc­tion-wise, my favorite 2 records of 2013 are Afraid of Heights by Wavves and Trou­ble Will Find Me by The Nation­al.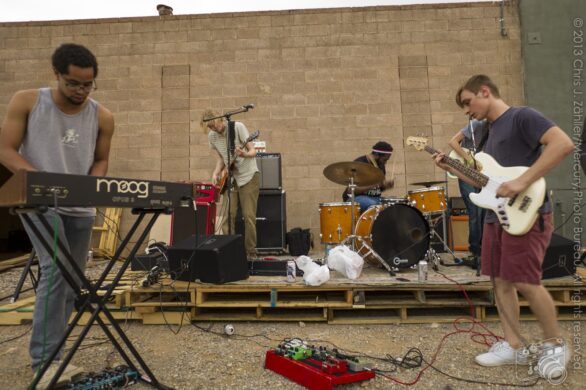 MPBDo you see music as a career, or is it going to turn out to be that thing you got to do when you were in your 20s?
LeonIt's all I know how to do.
Bran­donMe too.
LeonMy friend's dad, Basile Kol­liopou­los from the For­tune Tellers — he worked hard all his life, bunch of dif­fer­ent record deals, bunch of dif­fer­ent oppor­tu­ni­ties, but he always turned them down because they wouldn't let him do what he want­ed to do. But he lit­er­al­ly played music until he died late last year. And he did it while sup­port­ing and rais­ing a fam­i­ly.
MPBWe'll wrap up by redeem­ing a song, where we talk about a song that doesn't get much respect, but that you love, and you tell me what's great about it. Leon and Bran­don already got to do this in the Psy­chic Milk inter­view, but are wel­come to play again.
Bran­donMy reap­praisal of the ques­tion led me to Believe, by Cher.
MPBThat's the 1 with Auto­tune? — or at least with Auto­tune cranked all the way up?
Bran­donIt was the 1st song with any kind of Auto­tune. We tried to con­firm this, but the research was incon­clu­sive. We do know that the tech­nol­o­gy was avail­able as stand-alone soft­ware for a full year before the song's release, which casts doubt on Brandon's asser­tion. The Antares Auto­tune soft­ware was used on a singer who already had "pipes" and could sing [on pitch] — pure­ly as an effect. That's so fas­ci­nat­ing to me, because it's the sta­tus quo now. If you look at what was play­ing on Top 40 radio at that time — it her­ald­ed the return of elec­tro-house. That was the era of Third Eye Blind and Marcy's Play­ground and a bunch of pseu­do-slack­er rock bands that were adding more "hook" ele­ments to their songs. And here was this thing that was total­ly syn­thet­ic; sam­ple-cen­tric, arti­fi­cial —
MPBHeavy on the rhythm sec­tion —
Bran­donExact­ly. It real­ly was ahead of its time. It's fas­ci­nat­ing; [Cher] was basi­cal­ly a one-hit won­der, bar­ring her ear­ly career [as half of the musi­cal duo Son­ny & Cher] —
MPBShe was prob­a­bly bet­ter known as a actress at the time.
Bran­donYeah; I find that phe­nom­e­nal, and some­thing that can't not go down in his­to­ry.
LeonMine is Brain Stew , by Green Day. I think that's 1 of the most hat­ed and under­rat­ed songs. It's all pow­er chords; it was 1 of the 1st CDs I ever owned, and it was the 1st song I ever learned how to play on gui­tar; I'm always going to love that song. Like, it's got such a good chord pro­gres­sion!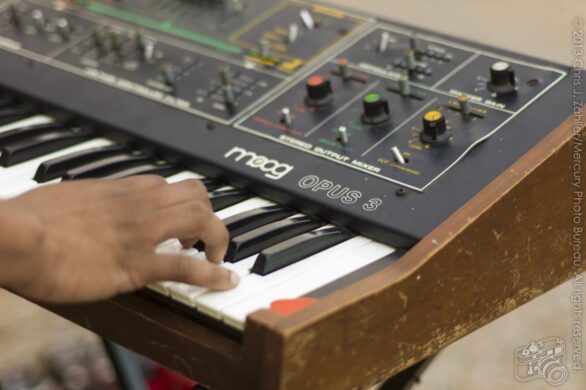 Ter­rence#41 by Dave Matthews. I know the Dave Matthews Band gets a lot of crap, but some­times all I need to hear is #41. It's just so groovy; Carter Beau­ford is a real­ly great drum­mer, and I actu­al­ly enjoy the vocals. Just the vibe; it's this whole kind of spacey vibe, and like, the bass — the bass line — I don't know? I just real­ly like it.
MPBThanks, every­body, for com­ing down.
LeonShout out to Cof­fin Bon­er Records; they're puttin' out our EP on tape; Cof­fin Bon­er Records is the best tape label in Okla­homa City!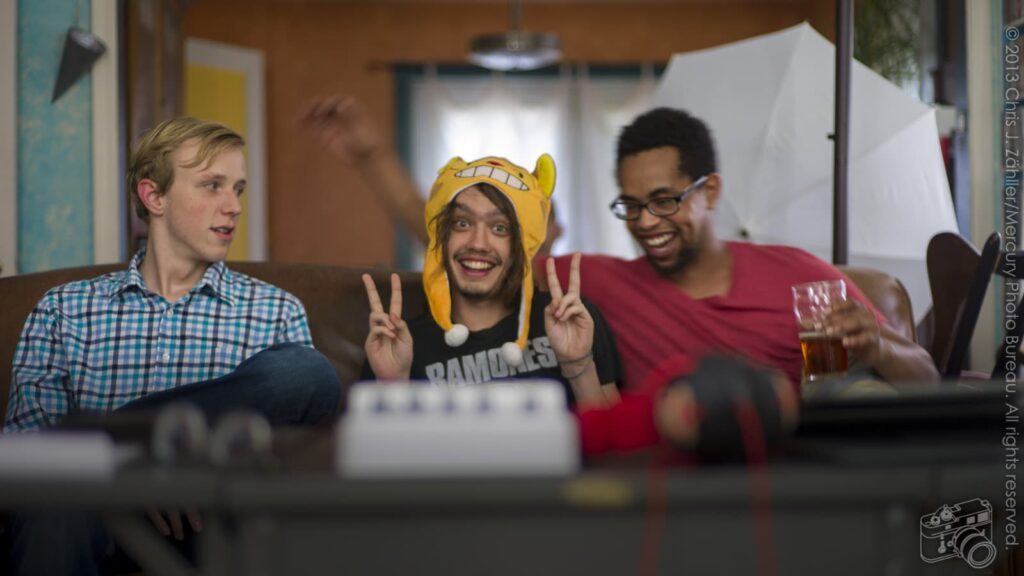 Gallery: Friday Art Walk
Gallery: Friday Art Walk
The city of Nor­man holds a Fri­day Art Walk on the 2nd Fri­day of every month; this past , Son­icVi­o­lence "ser­e­nad­ed" strollers with their sooth­ing sounds.
Gallery: The Conservatory
Gallery: The Conservatory
The band also opened for Mass­a­chu­setts rock­ers Speedy Ortiz at the Con­ser­va­to­ry at the ; clos­ing out the evening were incip­i­ent local musi­cians Anti-Pat­terns. Believe us; it was a wild night. Here are some pic­tures for you.