The aro­ma of grilling meat and pota­toes fry­ing in gyros grease per­me­ates the block around the busi­ness, guar­an­tee­ing a packed restau­rant on most days. But soon, Cam­pus Cor­ner insti­tu­tion The Greek House will have a new own­er. After plac­ing the restau­rant on the mar­ket , Ange­lo and Helen Dimas have final­ly sold The Greek house.
After 33 years of slic­ing meat from a ver­ti­cal spit and tak­ing cus­tomer orders, Ange­lo and his wife Helen are retir­ing. They've always closed the restau­rant dur­ing the Christ­mas and New Year hol­i­days to vis­it fam­i­ly in Greece; now they will be mov­ing back home. Their son, Bill, who will remain at the restau­rant for the time being, grad­u­at­ed from OU with a Mas­ters in æro­space engi­neer­ing in 1989 before com­ing to work in his par­ents' restau­rant.
The restaurant's new own­er, who goes by 'Moe", was work­ing behind the counter along with Ange­lo, Helen, and Bill when I dropped by yes­ter­day for lunch. The fam­i­ly kind­ly allowed me to doc­u­ment one day of Ange­lo and Helen's final week at the restau­rant, and took time out for infor­mal por­traits that evening, despite the ear­ly din­ner rush.See more images from the shoot on my Flickr pho­to­stream.
Moe, a slight, friend­ly man with a reflex­ive smile, was con­cerned that his cam­ou­flage print T-shirt might not pho­to­graph well, so he opt­ed to change shirts. As you can see, Ange­lo did not; tend­ing the dön­er kebabı is hot work.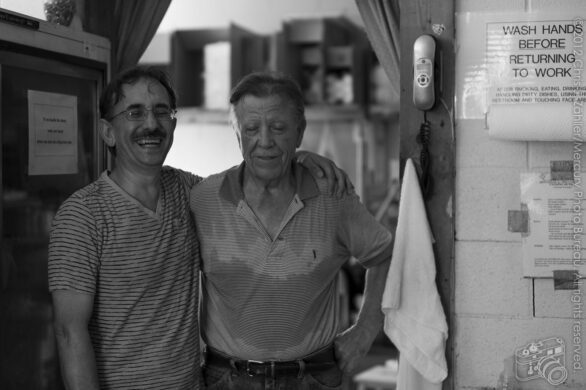 Ange­lo and Helen emi­grat­ed from Prosym­na, Greece in , open­ing The Greek House . The small Nor­man restau­rant orig­i­nal­ly catered to the Iran­ian and Mid­dle-East­ern stu­dents at OU. Even­tu­al­ly, oth­er Nor­man res­i­dents dis­cov­ered the place, which is known for large por­tions, low prices, and deli­cious fla­vors. Espe­cial­ly beloved by Nor­man­ites are the gyros (rotis­serie broiled mix­ture of lamb and beef) and the accom­pa­ny­ing tra­di­tion­al yoghurt sauce ("Tzatzi­ki").
The Greek House is locat­ed at 768 Jenk­ins Avenue near Boyd Street in Nor­man, Okla­homa. They open at and close at every day except Sun­day. Bring cash or your cheque­book; they don't take cred­it cards.