The King of Queen
The Show
We Will Rock You
Featur­ing the music of the late Queen front­man Freddie Mercury, Friday and Saturday's per­for­mances of The King of Queen played to sold out houses at Oklahoma City gay bar and per­for­mance venue, The Boom. The audi­ence were treated to a live band, 8-mem­ber choir, and a high energy per­for­mance by direc­tor-pro­ducer Leslie Hensley, who plays Mercury, in col­lab­o­ra­tion with inter­na­tion­ally tour­ing poet and activist Lauren Zuniga.
This year I wanted to do a show that was not only enter­tain­ing but also had a mes­sage. Freddie is the ulti­mate hero. When I was a kid I just wanted to jump around and be in that band. Every inner dia­logue can be nar­rated by a Queen song.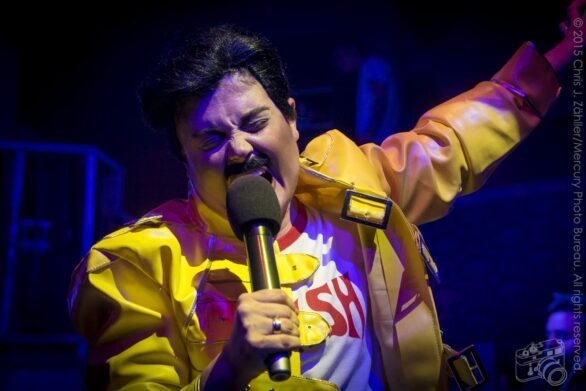 Hensley, known by her stage name Balthazar, chose the songs to fit the libretto by Zuniga. The show fea­tures no dia­logue; instead, Zuniga nar­rates the story while cel­e­brated drag king Max A. Warner and his fel­low actors pan­tomime the action. Warner plays Heather, a.k.a. The King, a young per­son tran­si­tion­ing from woman to trans man and find­ing rejec­tion and heartache along the way. All the while, his guardian angel Mercury watches over him. LaRissa Conn sings the back­ing vocals, while Jacob Abello appears in a cameo as David Bowie.
When asked what Queen and Freddie Mercury mean to her, Hensley said, Queen means rain­bows and uni­corns, dragon-sun­sets and cup­cake-filled hopes. Freddie is The King of Queen. Queen is the monarch of my heart. We were flat­tered as she con­tin­ued, I love your pic­tures because I can see myself hold — hold­ing back [my] tears. This project — chal­lenged me. Even though I knew the story. Every day I cried rehears­ing. Other cast mem­bers include:
Eryka Kraft

as The Queen of Hearts

Zeke Varnell

as The Regent

Veni Hanson

as The Knight

Eboni Adams

as The Dutchess

Eric Everett

in the uncred­ited rôle of Death
The Royal Court band con­sists of Bear Rodriguez and Hector Lopez, gui­tars, Eric Harris, bass, Holly Moorad, key­board, and Jacob Becannen, drums and musi­cal direc­tion. Crystal Huffman directs the Voices of Love and Fury Choir, con­sist­ing of Summer Blossom, Sarah Chambers, Holly Pierce, Elecktra Stanislava, Talia Talibbudin, BC Summers, Garrett Young, and Aaron Valles.
Gallery
Gallery: The King of Queen