Woodyfest 2014: Nancy Apple
Nancy Apple
Nancy Apple
I met "Princess of Twang" Nancy Apple in 2013, my first year [Sidenote: This is the eighth post in our cov­er­age of the sev­en­teenth annual Woody Guthrie Folk Festival. We'll be alter­nat­ing our report­ing with essays and photo gal­leries from the twenty-sec­ond fes­ti­val in 2019, so check in often for a mix of old and new Woodyfest good­ness.] vol­un­teer­ing to doc­u­ment the Woody Guthrie Folk Festival. I had pho­tographed her ear­lier in the day and hap­pened to sit next to her at the com­mu­nal din­ner held back­stage at the Pastures of Plenty.
We got to chat­ting and she remarked, Nice shirt, refer­ring to my Ardent Records [Sidenote: The Memphis pop label was founded by John Fry in 1959. From 1972 to 1975 the label's music was dis­trib­uted by Stax Records. Their most famous act was Big Star, whose first two albums helped define the genre "power pop."] logo t-shirt. She went on to tell me that she had designed the Ardent Records logo years ear­lier when she owned a small graphic design busi­ness in Memphis.
Apple played on every stage of the fes­ti­val dur­ing the period from 2006 to 2018. Festivalgoers know her for stay­ing up late jam­ming in the Days Inn motel park­ing lot and trad­ing songs and sto­ries at the camp­ground song cir­cles. Apple is also known for mak­ing friends wher­ever she goes.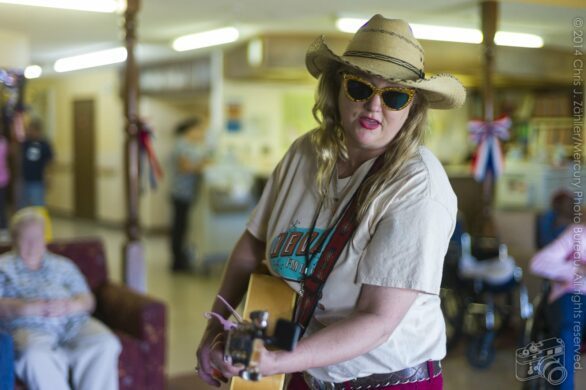 Today's gallery com­prises images from Apple's 2014 Crystal Theatre show­case and her pro­gram at the Colonial Estates Nursing Home. The facil­ity is one of two nurs­ing homes located in Okemah, where the fes­ti­val is held. Both facil­i­ties host annual com­mu­nity out­reach by fes­ti­val musi­cians, except in 2020 and 2021 due to COVID-19 pre­cau­tions. Apple has per­formed for the res­i­dents at both facil­i­ties over the years.
Appearing along­side Apple at the Crystal Theatre are Terry "Buffalo" Ware, Michael McCarty, Don Morris, Butch Morgan, and T. Z. Wright. Apart from Morgan, all are mem­bers of the fes­ti­val house band, The Oklahoma Geniuses.
Apple owns the inde­pen­dent record label Ringo Records.
Gallery
Gallery