Zombie Bolt 5K — Oklahoma's Premier Zombie Run
The Race
Zombie Event Raises Money for Charity
Guthrie, Oklahoma — Billed as Oklahoma's Premier Zombie Race, the 5K Zombie Run unleashed rav­en­ous mobs of the undead onto sprint­ers in the streets of down­town Guthrie to raise money for children's dis­ease research. The 6 October dash fea­tured run­ners nav­i­gat­ing a 5 km (3.1 mi) course obstructed by limp­ing, wan­der­ing, and sprint­ing zom­bies deter­mined to snatch the run­ners' lives, in the form of 2 bright orange flags each. The run was orga­nized by pro­moter Guthrie Entertainment llc in coör­di­na­tion with the City of Guthrie.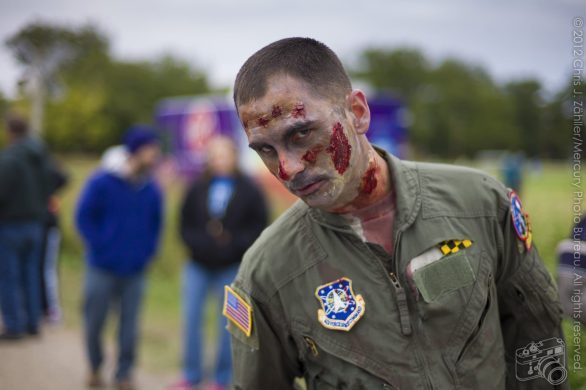 The Race
The course began on a dirt track off of West 2nd Street, turn­ing north before head­ing east on West Harrison Ave. It then looped around the cour­t­house, revers­ing back on Harrison and con­tin­u­ing to the start­ing loca­tion. The race fea­tured three classes of undead: Wanderers, Limpers and Bolters.
The Zombies
Wanderers
These zom­bies wan­dered the length of the course but ignored the run­ners. They posed a threat only in that they might have inad­ver­tently become obstacles.
Limpers
Limpers remained mostly sta­tion­ary, stum­bling or stand­ing close to an assigned course sec­tion. While they didn't run, they were per­mit­ted to grab lives.
Bolters
The scari­est class of zom­bies, these guys and gals chased after and often caught the rac­ers. In fact, so many of the run­ners lost both lives before the halfway point that the zom­bies handed flags to return­ing run­ners to have more sport.
The Runners
The run­ners who lost their "lives" had the oppor­tu­nity to cure them­selves by obtain­ing a two-part "cure," found at two "cure sta­tions" on the cour­t­house loop. Racers who reached the fin­ish line with either one flag intact or both cure parts col­lected were deemed sur­vivors. NFC tech­nol­ogy recorded every racer's time.
Winners
Best time, male run­ner, went to Seth Smart. Alexandra Bingham took first place in the women's divi­sion. Bruce Nobles won the "Most Scariest Zombie" [sic] title.
The Party
The After Life Party
Race par­tic­i­pants and spec­ta­tors later retired to the Drexel Music Hall for good com­pany, good beer, and good music.
Partygoers
About fifty par­ty­ers showed up for draft beer and con­ver­sa­tion over the evening's course. Participants included "Most Scariest Zombie" win­ner Bruce Nobles, who dressed as a zom­bie priest. When asked, Bruce con­firmed that he was a Roman Catholic undead padre, so it was okay for him to con­sume alcohol.
The Secret Post
Hailing from Tulsa, The Secret Post claim influ­ences from 80s punk, glam and new wave music. Frontman Zachariah Wiser kept the crowd enterained with his singing and play­ing, backed by bassist M, lead gui­tarist Aleks Zael, synth player Timothy DeCasper and drum­mer Nicoli. Visit Flickr for pic­tures.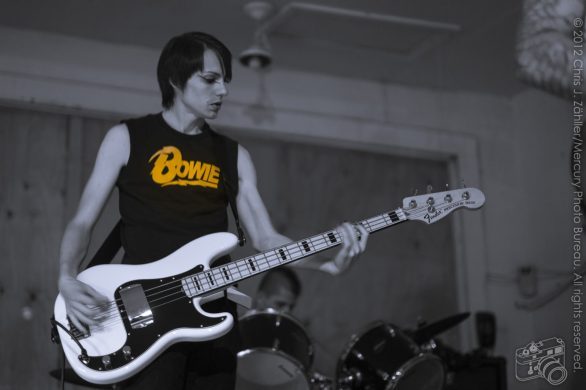 Kill the Reflection
Oklahoma City's Kill the Reflection are often found pack­ing the house at the Blue Note Lounge. Describing them­selves as post-punk, they per­formed a dark, brood­ing set marked by mid-tempo tunes with sim­ple, repet­i­tive riffs and angst-filled lyrics. I'll post about their later shows at the HiLo Club and the Blue Note when I fin­ish pro­cess­ing the pho­tos, so check back.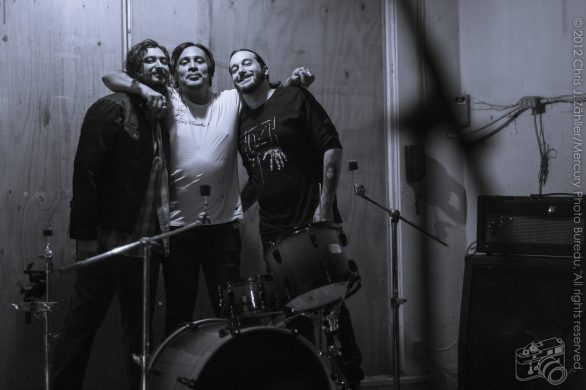 Gallery
The Gallery
Enjoy these selec­tions from my race cov­er­age. You can see more zom­bie cov­er­age on my Flickr pho­to­stream.