Early In-Person Absentee Voting, 2018 Mid-Terms, Cleveland County, Oklahoma
Early Voting Today thru Saturday
Early In-Person Absentee Voting thru
NORMAN —
Clev­e­land County res­i­dents may cast early in-per­son absen­tee bal­lots at the Cleveland County Election Board at 641 East Robinson Street (just east of the fair­grounds) begin­ning today. Polls are open from – and , and again from – on .
Voters should allow about a half-hour to vote, depend­ing on what time of day they arrive. Additional park­ing is avail­able at the fair­grounds. Voters should present one of the fol­low­ing forms of I.D.:
A cur­rent Oklahoma driver's license
A cur­rent photo ID issued by Oklahoma, the US gov­ern­ment, or a fed­er­ally rec­og­nized tribal government
A mil­i­tary photo ID
A county elec­tion board voter ID card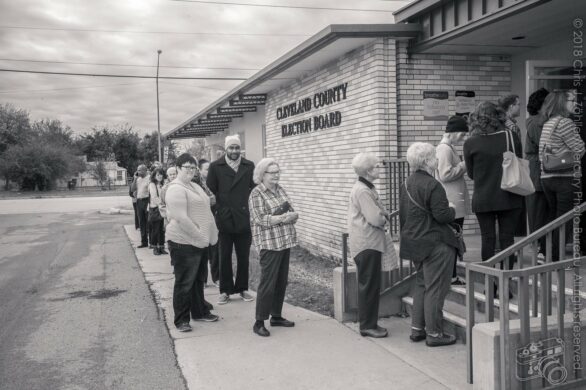 In addi­tion to vot­ing to fill the posi­tions of Governor, Lieutenant Governor, Attorney General, Auditor and Inspector, Treasurer, Superintendent of Public Construction, Labor Commissioner, an open State Senate seat, County Commissioner, and County Sheriff, vot­ers will decide on five state questions:
Lifting cer­tain restric­tions on optometrists and opti­cians oper­at­ing from retail spaces
Adding lan­guage to the state con­sti­tu­tion guar­an­tee­ing addi­tional rights to crime victims
Changing the cur­rent sys­tem of Governor and Lieutenant Governor run­ning on their own tick­ets to one in which they run on a com­bined ticket
Establishment of a new State Trust Fund
Expanding per­mis­si­ble uses of Ad Valorem taxes for school dis­tricts. Currently, such taxes must typ­i­cally be used only for dis­trict build­ing funds
Voters will also decide whether to retain sit­ting judges. [Sidenote: Readers, this writer has a con­fes­sion to make. In past elec­tions, I have been too busy (or too lazy) to research judges. I've always just ticked off the Yes box on judi­cial reten­tion. The past two years have seen record num­bers of judges appointed to impor­tant seats under the cur­rent admin­is­tra­tion. Some of those nom­i­na­tions have been con­tro­ver­sial, to say the least. Others might have been as con­tentious, had they not slipped under the radar or been buried in the news cycle by a cer­tain Twitter account. This year I researched the jus­tices before vot­ing and it became clear there were some I'd rather not see keep their seats. I'm espe­cially trou­bled by Justice Wyrick. The Leadership Conference have writ­ten about him here.] The Council on American-Islamic Relations (CAIR) Oklahoma Chapter has con­ducted thor­ough, non-par­ti­san research on all the judges. I urge you to read and draw your own con­clu­sions. Remember to jot down the names of the judges for when you go to the polls.
Gallery
Gallery