Peelander-Z Hallowe'en Show at Club Dada, Dallas
The Show
The Show
Hail­ing Hailing from District Z on Planet Peelander, self-described Japanese action comic punks Peelander-Z trav­eled across the galaxy to eat our smiles at Club Dada in Dallas's Deep Ellum on Hallowe'en. They are cur­rently tour­ing the south­ern US and the east­ern seaboard with Japanese garage metal band Electric Eel Shock.
The band rocked the house with their smile-induc­ing 3-chord punk, zany antics, and brightly col­ored skins (they are not cos­tumes; remem­ber, Peelander-Z are from another planet!) Human bowl­ing, a giant squid (or is it a giant gui­tar?) and songs about food are just some of the trade­mark ele­ments audi­ences all over the coun­try expect from the band.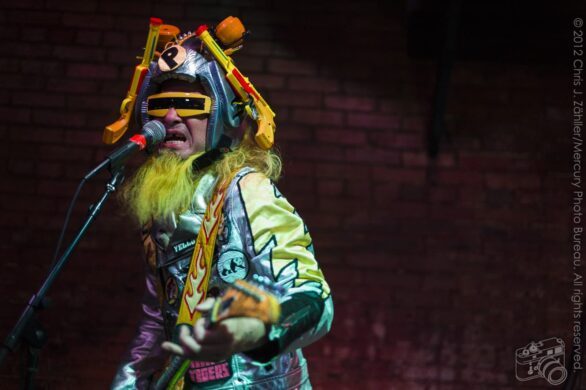 The audi­ence were fre­quently enlisted as per­form­ers; with their sim­ple lyrics, every song is a sing-along. Peelander Pink [Sidenote: If you can see her in this post's fea­tured image, it means you're a good per­son.] dis­trib­uted steel pet dishes and drum­sticks as makeshift per­cus­sion and pulled us onto the stage. When the Peelanders engaged in "human bowl­ing," they handed their own instru­ments to audi­ence mem­bers to play while the entire band left the stage. Daniel Drinnen, key­board player for open­ing band Urizen, was enlisted as the sub­sti­tute drummer.
Plan to catch them at their upcom­ing shows: this is Peelander Green's last tour before he retires to teach at Ninja High School.
Mercury Photo Bureau arranged to doc­u­ment the insan­ity [Sidenote: Thanks to Christopher Moon at Anhedonia Management and Josh Bloom at Fanatic Promotion for arrang­ing the inter­view and grant­ing me access dur­ing the show.] and here are the results. Be sure to view the gallery and read the exclu­sive inter­view. And why haven't you bought their new album yet? You can find Peelander-Z on iTunes and Amazon.
The Interview
The Interview
Note about the Interview
I I orig­i­nally intended to record my tele­phone con­ver­sa­tion with Kengu (Peelander Yellow), but when I called at the appointed time, he was dri­ving the band to their next show in Arizona. [Sidenote: You can see the soft­ware setup I would have used to record the inter­view here.] So he asked me to call back in 10 min­utes when he could switch dri­vers. The 2nd time I called, he asked for a few more min­utes because he needed to do some­thing you might have to do dur­ing any long trip (I'll leave that to your imag­i­na­tion). So he wound up call­ing me back, and when I answered, I for­got to press the record but­ton. The fol­low­ing is there­fore recre­ated from my notes.
Mercury Photo Bureau Hello, Kengu-san. Thanks for tak­ing my questions!
Peelander YellowHello; you're welcome.
MPBEvery inter­view with you that I've read starts with "Where is Planet Peelander?" to which you invari­ably reply, "Don't try to find it, feeeel it." Human nature being what it is, when we're told not to do some­thing, our 1st impulse is to do exactly that. Have you thought about using reverse psy­chol­ogy the next time some­one asks you this?
Peelander YellowWhen you want some­thing very badly — you try very hard to get it, but it won't hap­pen. Better to stop try­ing and just let it come to you. Planet Peelander is like that. You can­not find Planet Peelander. You must feeeeel it.
MPBWas there some sport or activ­ity like Earth wrestling that you liked before you came to our planet, or were you always fans of Earth wrestling, even before the jour­ney across space?
Peelander YellowWe didn't have pro­fes­sional wrestling on Planet Peelander. We do other sports, like fly­ing — peo­ple are very light there; they float. We dis­overed [pro­fes­sional] wrestling after we came to Earth.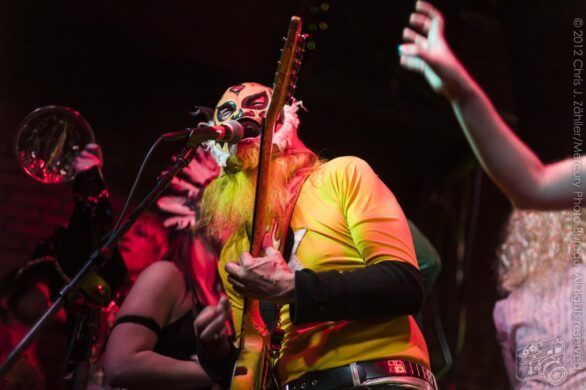 MPBDo Planet Peelander natives share your col­ors, or is each 1 unique? Is there a Peelander Fuschia-with-a-touch-of-orange-but-only-in-a-cer­tain-light, or a Peelander Magenta-almost-maroon-but-not-quite?
Peelander YellowAll dif­fer­ent, and not just col­ors: you could be Peelander Mountain, or Peelander Rainbow, or Peelander Flower. Your name describes your inner per­son, and your skin shows your per­son­al­ity. When we came to Earth, we thought every­one was the same [as each other], because they all look sim­i­lar. We dis­cov­ered that, inside, each per­son is very dif­fer­ent; it doesn't show as much on the outside.
MPBHow did you meet Peelander Pink? — and when did she join the band?
Peelander YellowAh, you've seen the YouTube videos? If you see Peelander Pink, it means you are a good per­son. Only good peo­ple can see her!
MPBI used to watch Gigantor in the 1960s. Did any of you grow up with Tetsujin Nijūhachi-gō (Tetsujin 28-gō)? [Sidenote: 鉄人28号.]
Peelander YellowAh, that is very early. We watched [Himitsu Sentai] Gorenjā. [Sidenote: 秘密戦隊ゴレンジャ]
MPBThe happy life cer­e­mony, a.k.a. human bowl­ing: is that native to Planet Peelander, or did you cre­ate it after com­ing to the shores of Manhattan?
Peelander Yellow That's from Planet Peelander. We per­form it when some­thing makes us happy. Also, it makes peo­ple smile, and we eat your smiles. That is our food. When you smile, you feed us.
MPBWhy did you and Peelander Red orig­i­nally move to NYC?
Peelander YellowThere's a good Japanese restau­rant there!
MPBSpeaking of which, chili burg­ers, ice cream, rice­ball-z, s.t.e.a.k. steak, tacos, wasabi. Any other food I should know about?
Peelander YellowYes! We may have another song about food in our new album. We've fin­ished record­ing it, and it should be out next year.
MPBYou 1st began record­ing on ana­log equip­ment, in the 90s. Thinking of Brian Eno's essay in which he com­plains about the loss of imme­di­acy when soft­ware becomes an inter­me­di­ary, does dig­i­tal tech­nol­ogy help or hin­der your music making?
Peelander YellowWe don't think of it that way. When you have a prob­lem, what do you do? You keep try­ing, and you solve the prob­lem. If there is a soft­ware prob­lem, we find a way to work around it.
MPBTell me about the food truck in Austin.
Peelander YellowAh, East Side King [Sidenote: East Side King is owned and oper­ated by Top Chef's Paul Qui and fel­low chef Motoyasu Utsunomiya.] . Good food. They have good food in Austin. I painted their truck.
[We briefly dis­cuss SXSW; Peelander Yellow wants to know if I've attended — I have not.]
MPBIs Red excited about teach­ing future Ninjas? Do you miss him already? Are you search­ing for a replacement?
Peelander YellowYes, yes, and we'll see. We don't know right now.
MPBI already have 3 pairs of glasses. Should I get more?
Peelander YellowYes!
MPBDo you have any­thing spe­cial planned for the Hallowe'en show that you haven't done before and are not likely to repeat soon?
Peelander YellowYou'll have to come and see! Wear a cos­tume! Everybody should wear a costume.
MPBI'll be wear­ing my Hausu [Sidenote: House, or ハウス is a 1977 Japanese hor­ror film directed by Nobuhiko Obayashi.] t-shirt and tak­ing pic­tures of you! Final ques­tion: Can we expect to see Peelander Black in Dallas?
Peelander YellowHe is in Japan right now, but he is fly­ing here. We hope he will be at the Dallas show.
Gallery
Photo Gallery
Shooting under stage lights is always a chal­lenge. Hardly any of my pic­tures of open­ers Urizen were usable due to a com­bi­na­tion of low light, red LEDs, and the hyper-kinetic move­ment of the band mem­bers them­selves. Peelander-Z had the advan­tage of being brightly lit; also, I spoke to the house light­ing direc­tor before their set and ensured the band would be lit with white dur­ing their 1st song. Nonetheless, color tem­per­a­tures were incon­sis­tent, and blue and red LEDs cast weird shad­ows on the band through­out their set.
What you see below is the result of lots of man­ual cor­rec­tion in Adobe Lightroom to min­i­mize these arti­facts; selec­tive reduc­tion of the red chan­nel and occa­sional use of gra­di­ent fil­ters helped make the images appear more 'nat­ural.' Even so, some pic­tures only looked right when con­verted to B+W; in color, all detail would have been lost in a sea of red.