The Interview, Pt. 1
David Goad (Kali Ra) Interview, Pt. 1
David Goad, front­man for Kali Ra and var­i­ous oth­er musi­cal and per­for­mance projects, recent­ly sat down with us to answer some ques­tions. His love­ly wife, Ali­cia, was on hand to call his bullsh*t . She also told us 10 Things You Didn't Know about David Goad, which you can read in Part 2 of the inter­view.
Mer­cury Pho­to BureauI under­stand you're a grad­u­ate of ACM. When did you grad­u­ate?
David Goad[Looks at watch] Let's see … I grad­u­at­ed in 2011.
MPBWere you a com­po­si­tion major?
DavidI was a gui­tar per­for­mance major. [I took com­po­si­tion class­es at] ACM and OCCC […]
Mer­cury Pho­to BureauWere you involved in musi­cal the­atre?
DavidNo, [my area of study] was musi­cal ped­a­gogy; I most­ly stud­ied clas­si­cal gui­tar, clas­si­cal voice and com­po­si­tion the­o­ry.
MPBYou've had a cou­ple of your com­po­si­tions used in the­atre and tele­vi­sion.
DavidI had a piece used on [nation­al­ly syn­di­cat­ed PBS show] Two Wheel Okla­homa, and I've also writ­ten a [30 minute] score for a [90 minute] the­atre piece called Fubar[, pro­duced at UCO in ].
For the PBS show, the pro­duc­ers want­ed music that was [both] dri­ving and ambi­ent; I can do both of those things. The piece is called called Apha­sia and it's a med­i­ta­tion on a pen­ta­ton­ic scaleA musi­cal scale with 5 notes per octave. Scales in mod­ern West­ern music typ­i­cal­ly employ a hep­ta­ton­ic (7 note) scale. — for the 1st half of the piece — and then you have a lot of 'roboto' rythm, and there are bridges with a lot of sharp punc­tu­a­tions. The instru­men­ta­tion is a lot of tym­pa­ni and a lot of per­cus­sion like vibra­phone and marim­ba. But I wrote the melody for gui­tar with a "sus­tain­er" pick­upSus­tain­ers con­sist of a device to gen­er­ate a mag­net­ic field that caus­es the strings to vibrate, cou­pled with a pick­up to "pick up" and ampli­fy the sound, thus cre­at­ing near-infi­nite sus­tain., allow­ing the per­former to play with­out pick­ing notes [with the right hand]; you hold the strings to the frets [with your left hand] […] [so you can play the gui­tar like a vio­lin].
It's a dense­ly har­mon­ic piece; in the 2nd part, it's a 12/8 rhythm; it's bounci­er with a funky bass line that's sta­t­ic through the whole thing. Then it becomes nat­ur­al minor and car­ries it all the way to the end, where it ends on the ton­ic, [on a major chord].
[The music for] Fubar was a lot less con­so­nant. It was most­ly inci­den­tal music. I used a lot of 12-tone and aton­al tech­niques, with a lot of minor 2nds. I was try­ing to devel­op a son­ic ambi­ence based on sym­pa­thet­ic vibra­tion, rather than a cohe­sive har­mo­ny or melody, vibra­tions that would stretch or pul­sate rapid­ly.
[The the­atri­cal piece] Fubar was exper­i­men­tal, like Antonin Artaud's The­atre of Cru­el­ty.Artaud the­o­rized the sur­re­al­ist the­atri­cal form "Théâtre de la Cru­auté" in his essay col­lec­tion The The­atre and its Dou­ble, pub­lished 1938. So, obvi­ous­ly, I want­ed to com­pose some­thing 'decon­struc­tion­ist,' tak­ing a very non-musi­cal approach to music. [Con­verse­ly,] I would 'give the audi­ence a bone' here and there. I cre­at­ed some very 'robot­ic' dance pieces dri­ven by dis­tort­ed bass and drums. It's sort of […] Bri­an Eno meets Trent Reznor meets John Cage […].
Mer­cury Pho­to BureauTell us about your pre-Kali Ra projects, and also your cur­rent side projects.
DavidBefore Kali Ra, I was in Of the Tow­er. I don't want to say we were […] a cliché Goth band, but we were more Goth than Kali Ra.
Of the Tow­er con­sist­ed of Todd Plun­kett, Nathan Stein and me. In the '90s and the ear­ly '00s, [Todd and Nathan] were part of the Okla­homa rock scene. Nathan was in The Ven­di­tos and Todd was in Kite Fly­ing Robot and Ghosts of Monks­hood, and he was also in Shiny Toy Guns for a bit. He was every­where.
We were try­ing to approach the band as an art col­lec­tive, and we had very high aspi­ra­tions for it, but it just nev­er hap­pened […]. Musi­cal­ly, we all had sim­i­lar influ­ences, and we want­ed to cram them togeth­er to make deli­cious jam out of it. We were all fans of Bauhaus and The Doors and David Bowie and Joy Divi­sion and Philip Glass. We want­ed to do this min­i­mal­ist post-punk thing that was dark and Goth-y.
I took my gui­tar approach and my singing from Daniel Ash and Peter Mur­phy, and Todd did a lot of Joy Divi­sion-New Order stuff, and like, [John] Dens­more from The Doors; very expres­sive, angu­lar drum­ming; it was almost jazzy. Nathan was heav­i­ly into world music: klezmer and Gyp­sy music and Philip Glass. You'd think a mix­ture of all 3 of them [would work]. It was much more dif­fi­cult in real­i­ty to effec­tive­ly meld them togeth­er […].
Ali­cia GoadI real­ly don't think that [how they col­lab­o­rat­ed] was what broke [Of the Tow­er] up. I think it was more [a mat­ter] of them not com­ing to prac­tice and not want­i­ng to move on and tour. It wasn't because of cre­ative dif­fer­ences.
DavidI will admit, I was being diplo­mat­ic. It was my aspi­ra­tion to tour and pro­duce albums […] and now that Of the Tow­er was dis­band­ed, I had tab­u­la rasa to be able to hone in on the song­writ­ing craft, to not be stick­ing to a pas­tiche and [to] write the best songs that I could. [Being] in a band for so many years, that had almost been cred­i­ble, you know, it was a good learn­ing [expe­ri­ence]. So now I had this abil­i­ty to write baroque, pop-rock-elec­tro-glam-indus­tri­al infused songs. Kali Ra is the next step, cre­ative­ly, and is also my flag­ship project.
I now have [many excel­lent musi­cians at my dis­pos­al]. Justin Hogan won the 2002 Best Gui­tarist Okla­homa Rock Award […]. Joel Price, anoth­er friend and col­league, is an excel­lent pro­duc­er; his pro­duc­tion style is like Bri­an Eno's. [He thinks in terms of] sound­scapes, to cre­ate music as a paint­ing […].
MPBLet me side­track you with a ques­tion I recent­ly asked Pee­lander Yel­low. Bri­an Eno once wrote an essay in which he posit­ed that recent advances in record­ing tech­nol­o­gy rob music mak­ing of inti­ma­cy and imme­di­a­cy, replac­ing what were once 1-to-1 cor­re­spon­dences between action and result ('ana­logue') with mul­ti-step abstrac­tions that require the assis­tance of a soft­ware engi­neer for even the sim­plest task ('dig­i­tal'). What tech­nol­o­gy do you employ when record­ing, and has this been a prob­lem for you?
DavidRight now, we're using the wash­ing machine, the CD rack, and, um, rooms; we're very heavy into using rooms, along with all the dig­i­tal stuff. [laugh­ter]
My point is, we try to meld the 2 togeth­er and try not to rely too heav­i­ly [on either ana­log or dig­i­tal]. That's where Joel excels; he and I do a lot of exper­i­men­ta­tion with tim­bre, pitch, and son­ic depth, things that were com­mon­place in indus­tri­al and elec­tron­ic music at its incep­tion, but are now passé [as musi­cians increas­ing­ly rely on VST plu­g­ins].Vir­tu­al Stu­dio Tech­nol­o­gy is an inter­face for inte­grat­ing soft­ware audio syn­the­siz­er & effect plu­g­ins with audio edi­tors & hard-disk record­ing sys­tems, often used to emu­late ana­logue and spa­tial effects. It is anal­o­gous to "Pho­to­shop actions" or "Light­room fil­ters" in dig­i­tal pho­tog­ra­phy. By the way, Joel is also Kali Ra's oth­er gui­tarist; his style is sim­i­lar to Robert Fripp's or The Edge's.
[We] who have an artis­tic approach [to music] still cling to imme­di­a­cy, [like the Action­ist man­i­festo];Vien­nese Action­ism (cir­ca 1960 – 1971) reject­ed object-based or oth­er­wise com­mod­i­fi­able art prac­tices by stag­ing pre­cise­ly scored "Actions" in con­trolled envi­ron­ments or before audi­ences. Some art his­to­ri­ans see it as the fore­run­ner to per­for­mance art. you are try­ing to cre­ate an event, and I think that is what a record­ing is: you are try­ing to [cap­ture that event].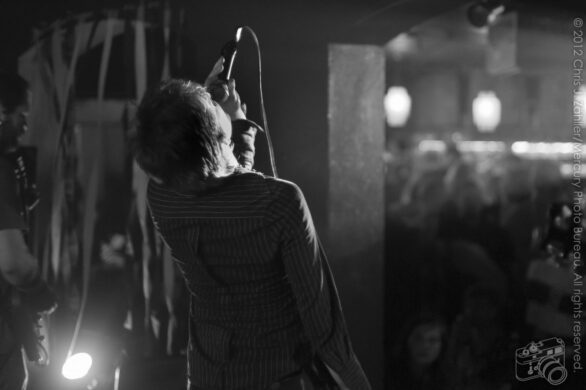 Mer­cury Pho­to BureauSome­thing that real­ly hap­pened, not some­thing that only ocurred in the dig­i­tal domain.
DavidRight. You could spend a year record­ing and mix­ing an EP that is dig­i­tal­ly per­fect, but it wouldn't have the love, the care, the atten­tion, or the raw­ness of the exper­i­men­tal stuff from the '70s and the ear­ly '80s. You have Ein­stürzende Neubaut­en, you have David Bowie's Berlin Tril­o­gy; that was a time when peo­ple were still dis­cov­er­ing how to do these things.
These tools shouldn't be used as a crutch. We have to be inven­tive beyond them; we've got to define new stan­dards.At this point, David speaks at length about process. For brevi­ty, we've omit­ted his dis­course.
Mer­cury Pho­to BureauThose are all valid con­cerns, but I'm hear­ing a lot about process and almost no men­tion of music. Are you a musi­cian, or are you an artist who may include music in his art, but that's only part of what you do?
DavidYes [, the lat­ter]. But the entire thing is a process from end to end. You're a par­ent: you con­ceive the child, that is, the music, you com­pose and go through sev­er­al drafts, you've birthed the child, you're rehears­ing the music, and then there're still some tweaks need­ed before you final­ly release it into the wild.
He's Irish
David's ances­tors are Irish, with the atten­dant 'gift of the gab.' As he had no short­age of words, I'm break­ing this inter­view into 2 parts. Part 2 includes stream­ing audio for his song, Elec­tric Liv­ing. Also in part 2 are 10 Things You Didn't Know about David Goad, as told by Ali­cia Goad.
Gallery
Gallery: Kali Ra at the HiLo Club