Musical Tributes at the Power House Bar
The Tribute
You Can't Go Skating in a Buffalo Herd … But You Can Sing about It
One of the most pop­u­lar recent broad­casts on KOSU the SPY FM's Oklahoma Rock Show was their all Roger Miller pro­gram. When local musi­cian Jerrod Beck heard the show last June, he approached his friend, singer Gabriel Knight Hancock, with an idea. "What if we did a live Roger Miller cover show?" Hancock was on board, but it soon became appar­ent to both musi­cians that the show could, and should, be larger than the 2 of them.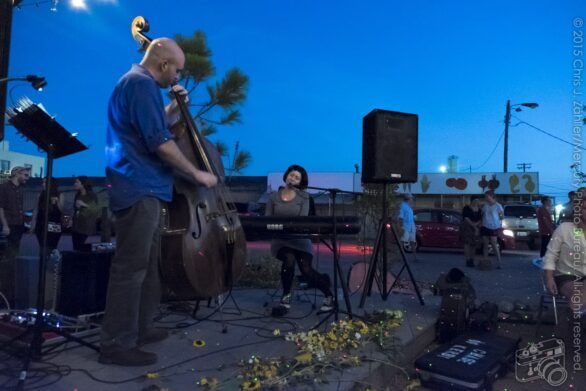 In a short time Beck and Hancock orga­nized a ben­e­fit show at The Plant Shoppe, an Oklahoma City (you guessed it) plant shop known for host­ing shows and work­shops. The lineup grew to 8 addi­tional musi­cians and raised sig­nif­i­cant funds for shop own­ers Jen Semmler and Chad Grubs, who had suf­fered finan­cial duress after their child was born pre­ma­turely. As with a cer­tain potato chip brand, 1 show proved not to be enough. Within a span of 4 months, Beck has orga­nized 3 more trib­ute shows, this time on the Power House Bar's patio stage. First came a John Prine trib­ute, then a Smiths trib­ute, and, this past Sunday, a trib­ute to the late Oklahoma singer-song­writer J.J. Cale.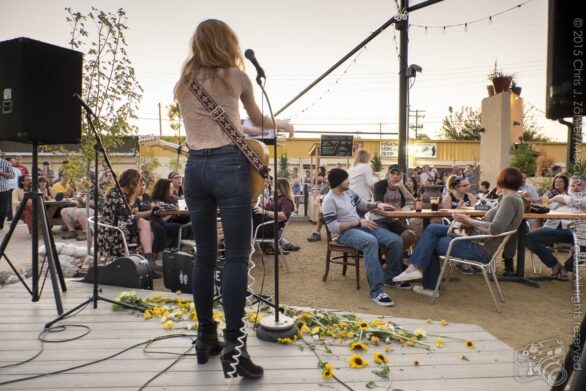 Mercury Photo Bureau was on hand to doc­u­ment the Smiths trib­ute and the J.J.Cale show.
Building Community
Regarding the series' mis­sion, Beck said, The shows are about pay­ing trib­ute, but they are also about build­ing com­mu­nity among musi­cians locally. We encour­age every artist involved to col­lab­o­rate with one another. Most times these local musi­cians and song­writ­ers are busy doing their own shows and don't get to see one another per­form. The trib­ute shows cre­ate an oppor­tu­nity for reunion and mutual appre­ci­a­tion for var­i­ous styles of local song craft. It's about hav­ing fun and it's about grow­ing as artists.
Also appearing:
Rachel Brashear

Blake Burgess

(Oklahoma Cloud Factory)

Kaitlin Butts

Kinsey Charles

(Judith)

Chelsey Cope

Justin Fortney

(Stranded at the Station)

Taylor Gary

José Hernández

Josh Hogsett

(Tallows)

Tyler Hopkins

Cody Ingram

Chase Kerby

(Season 9 The Voice contestant)

Erich Massad

(Moongiant)

Cameron Morris

(Oklahoma Cloud Factory)

Billy Muschinske

(Moongiant & Boredwax)

Cameron Neal

(Horse Thief)

Taylor Rapp

(Wildings)

Kyle Reid

(Kyle Reid & the Low Swinging Chariots)

Sarah Reid
The series returns on 20 November to The Plant Shoppe with a trib­ute to singer, song­writer, and activist Nina Simone.
Gallery
Gallery: The Smiths Tribute Show